High Anxiety
How to stop feeling anxious
Overcoming high anxiety.
An anxiety attack is an instinctive emotion and like all instinctive emotions, very valuable to us, we need it to survive. It makes us aware of what might go wrong and when to be cautious. There is only a problem when anxiety becomes out of control and affects every part of our lives. We start to worry about everything and anything and have no idea how to stop feeling anxious and start overcoming anxiety. The sufferer is always anxious that anxiety can become a habit. If there is nothing to worry about they will find something to worry about. If you suffer from an anxiety disorder you may find it difficult to sleep, hard to relax and find it impossible to stop feeling anxious. You may become irritable, have panic attacks and even have heart palpitations. This can end up with you becoming depressed, angry and finding it difficult to enjoy life.
How hypnotherapy can help you overcome high anxiety.
The sufferer has become so used to being anxious that they cannot relax. When they come to see me they even doubt that they will ever be able to relax during the session, but of cause they do. They become very relaxed and the realisation that they can do so is a big step. Whilst in that very relaxed state called hypnosis they can learn how to relax very quickly at any time. How to take away stress and anxiety anytime, anywhere, helping them learn how to stop feeling anxious.
Therapies available to help you stop feeling anxious
Therapy 1 – Full live stop anxiety hypnosis and counselling sessions.
Using live hypnosis and counselling to help you overcome your anxiety disorder in total confidentiality. The initial half-hour counselling session is free. You have an opportunity to talk about your anxiety disorder, how you feel and how it affects you in total confidentiality. You will also be able to ask any questions you may have and discuss how I might help you stop feeling anxious.
If you decide to come back for hypnotherapy to help with your anxiety disorder the fee will be £95.00 for about an hour session. Any further sessions if required will be charged at £60.00, each
At the end of the free initial session, you may feel you would like to continue with a further counselling session or would like a hypnosis session. This will normally be possible as I try to allow time between sessions in case this is requested.
To find out more about live therapy for this disorder click here.
Or click here to book your free initial consultation online.
Therapy 2 – Online Therapy, hypnotherapy or Counselling to reduce high anxiety over Skype or Teams.
Hypnotherapy or counselling sessions over Skype or Teams to help you overcome your anxiety attacks while relaxing in your own living room. please click here for more information
Therapy 3 – Your very own hypnotherapy anxiety disorder session tailored and personalised especially for you on a downloadable mp3.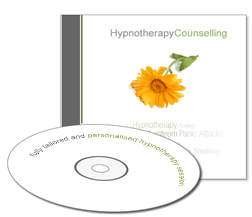 The first contact for this therapy is made by an enquiry form. The questions on this form are designed to give me all the information I need to build you a personalised hypnotherapy session to help you stop having an anxiety attack. Once I have your session ready I record it to mp3 then inform you by e-mail that it is ready and how to download it. After you have downloaded the mp3 you can burn it to CD if you want to use a CD player to listen to it. You then have your very own overcoming anxiety hypnotherapy session specifically to help with your anxiety available to you whenever you need it.
 The fee for this recorded personalised for anxiety disorder mp3 is £115.
 Click here to find out more about this therapy.
 Click here to order your personalised mp3 and fill in the details of your anxiety on the form provided.
Therapy 4 – Hypnotherapy Anxiety Therapy MP3 to relieve an anxiety disorder.
MP3 £7.80
A pre-recorded hypnotherapy session on downloadable mp3 to relieve your high anxiety. Ready for you to download instantl
y
This very relaxing recording can decrease your anxiety disorder and leave you feeling calm and relaxed.
This recording for anxiety problems can help you become less anxious and more relaxed in your everyday life. By using hypnosis to help your subconscious to learn that instead of feeling worried and anxious there is another way you can feel, calm and peaceful. You can download the Pre-recorded mp3 immediately once payment has been made.