Hypnotherapy for Depression
How to feel less depressed
Hypnotherapy to reduce depression.
What Is Depression?
With the help of hypnotherapy and good counselling we can learn how to feel less depressed, less anxious, and more relaxed. We all get down at times having feelings of unhappiness and losing motivation. If you suffer from depression it is much worse, those periods of sadness can go on for weeks, even months. Sufferers may have problems sleeping, become anxious, feel unworthy, lack motivation, and find it difficult to stop feeling depressed and to cope with many situations. The symptoms can vary a great deal but they will be feeling very down and sad. It can be like a dark cloud hanging over them from which they cannot escape. It can feel as if it just hangs over them making them feel heavy and holding them back, stopping them from living their lives to the fullest.
How to feel less depressed?
Hypnotherapy can help them relax and sleep better. It can help them look at things in a different way alleviating anxiety. Help them to feel better about themselves letting that dark cloud lift. As they start to cope with life better they feel happier about themselves and the healing process can grow.
How to feel less depressed, therapies available from here.
Therapy 1 – Full live hypnotherapy and counselling sessions to reduce depression.
To see if hypnotherapy may be the way to help you stop feeling depressed I offer a free consultation which will last half an hour. This gives you a chance to meet me, see if you feel comfortable with me, talk in total confidentiality about your depression and ask any questions you may have. If at the end of this session you feel that you do not want to continue with hypnotherapy, then there is no obligation for you to do so.
Should you decide to come back I will prepare the full hypnotherapy session for you to help you overcome your depression. If at the end of the initial consultation you feel that you would like to continue at that time with either a hypnotherapy session, or possibly a counselling session to talk more about your depression, this is normally possible as long as I have the free time.
This hypnotherapy session will be charged at £95.00. for about an hour session. Any further sessions if required will be charged at £60.00, each
Click here for more details and fees of this therapy.
Click here to book your free initial consultation
Therapy 2 – Skype hypnotherapy or Counselling to help with depression.
Hypnotherapy or counselling session to help you overcome your anxiety attacks while relaxing in your own living room.  How to feel less depressed.please click here for more information.
Therapy 3 – A fully personalised and tailored hypnosis depression mp3 to help lift your depression.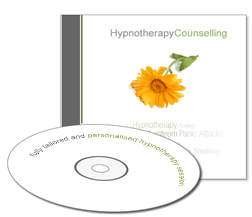 First you explain to me all about your depression by filling in a form online. I then record a full hypnotherapy session and send it to you on a Mp3 download. It will help you relax, take away stress and help you stop feeling depressed.
Tailored personalised recorded therapy sessions cost is £115.00.
 Click here for more details of this therapy to overcome depression
 Click here to order your very own stop feeling depressed recorded session, by filling in a client information form.
Therapy 4 – A downloadable mp3 hypnotherapy session for depression..

MP3 £7.80
A pre-recorded hypnosis depression mp3. Ready for you to download instantly.
.This hypnosis depression mp3 can reduce depression by helping you to see things in a different light, enabling you to change negative thoughts into positive ones, feeling more relaxed throughout the day and improving your self worth.
Available to download immediately on mp3, to help you stop feeling depressed. This uses the deeply relaxing affects of hypnosis to help you become more relaxed in your every day life, at the same time helping you to stop worrying in the same way. As you start to feel more positive and confident in the things you do, you will find it so much easier to cope. You will then find your depression ease as those dark clouds lift.